Plastic 3D Printing Service
From thermoplastics for functional parts to high-precision resins (thermosets) for visual prototyping, a variety of 3D printing resins are available.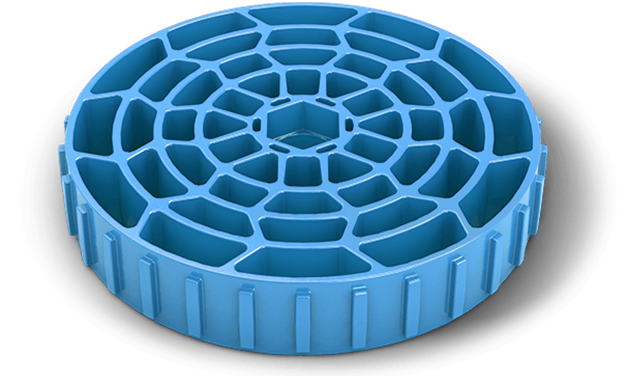 Plastic 3D Printing Services
V1 offers state-of-the-art plastic prototype printing services that guarantee outstanding quality and fast turnaround times. We work with a strong network of manufacturers with over 2,400 3D printers to ensure competitive pricing and fast turnaround times. Our global network and diverse capabilities allow us to produce parts using a variety of materials and processes with different properties and characteristics. Specialising in industry-standard 3D printing processes such as FDM, SLA, SLS and MJF, we can deliver any custom 3D printing project you require, including rapid prototyping and industrial applications. Partner with us today for global plastic 3D printing supply chain support.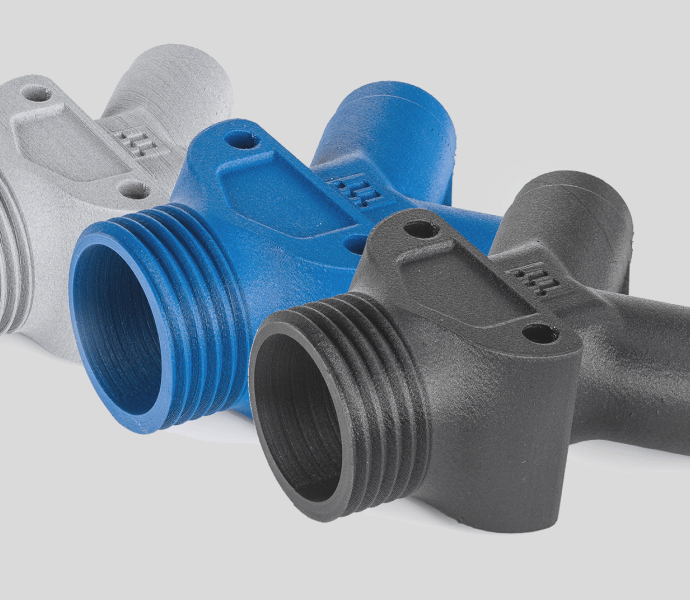 Custom Plastic 3D Printing
Our services enable designers and engineers to create bespoke plastic 3D printed parts for many applications across a wide range of industries including aerospace, automotive, defence, industrial automation, machinery, manufacturing, medical devices, hardware assemblies, energy and robotics. We use machine learning algorithms to convert CAD files into quotes for your custom parts, ensuring that your design is manufacturable before it reaches your manufacturing partner. Our platform offers a variety of plastic materials and technologies to produce plastic parts, including post-processing options for certain 3D printing methods.
Our plastic 3D printing capabilities
We have over 90 3D printers in our network and are renowned for producing high quality parts at competitive prices. We offer services ranging from rapid prototyping using Fused Deposition Modelling (FDM) to the production of functional final parts using Selective Laser Sintering (SLS) or Multi-Jet Fusion (MJF).
| Material Name | Description | |
| --- | --- | --- |
| PLA | High rigidity, good detail, affordable price. | |
| ABS | Commercial plastic with improved mechanical and thermal properties compared to PLA. | |
| Nylon | Used as a replacement for functional injection-molded parts, with good chemical resistance. | |
| Resin | High precision and smooth surface for prototype production of injection molds. | |
| PETG | Suitable for mechanically strong and flexible parts with high impact strength. Sterilizable. | |
| TPU | Rubber-like material suitable for pipes, handles, seals, and gaskets. | |
| ASA | Preferred material for outdoor applications with UV stability and high chemical resistance. | |
| PEI | Engineering plastic suitable for high-performance applications with flame retardancy. | |
Available 3D printing materials
We can provide instant 3D printing quotes for over 25 plastics.
3D Printing Process/Technology
Available Materials
SLS

Nylon/Nylon composites
TPU
PAEK
PEEK
Metal powders (e.g., aluminum, titanium, stainless steel, etc.)

Desktop FDM

PLA
ABS
PETG
TPU
HIPS
PVA
Nylon

Desktop SLA

Photopolymer resins (e.g., standard resin, flexible resin, high-temperature resin, etc.)

MJF

Nylon/Nylon composites
TPU
PAEK
PEEK

INDUSTRY FDM

ABS
PC
PA (Nylon)
ULTEM
PEEK
Carbon Fiber Reinforced Polymers (CFRP)
Glass fiber reinforced materials

Industry SLA

Photopolymer resins (e.g., standard resin, flexible resin, high-temperature resin, etc.)
* Please note that each 3D printing process/technology may support additional materials. The list provided here includes some common options. Different 3D printing devices and manufacturers may have different material choices.
Surface Finish Options for 3D Prints
| Finish Level | Description |
| --- | --- |
| Unfinished | Dots, or standing "nibs," remain evident on the bottom of the part from the support structure remnants. |
| Natural | Supported surfaces are sanded down to eliminate the support nibs. |
| Standard | Supported surfaces are sanded, and the entire part is finely blasted for a consistent look. Note that the layers are still present. |
| Custom | Soft-touch paint, clear part finishing, painting, masking, color matching, decals/graphic, and texture finishes are available. |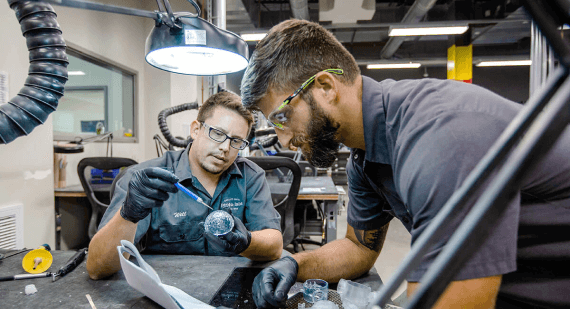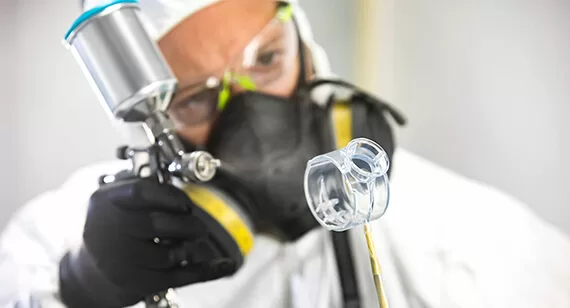 Looking to boost the strength, clarity, or appearance of your 3D-printed parts? Choose from microfluidic and micro-resolution materials, metal plating, secondary machining, and custom finishes like painting, clear coating, and decaling.
| Finishing Option | Description |
| --- | --- |
| Clear Coat | Clear cosmetic finish that can be applied to ABS-Like Translucent/Clear (WaterShed XC 11122) and PC-Like Translucent/Clear (Accura 60) materials. |
| Painting | After smoothing the part with sanding and polishing, parts can be painted with automotive-grade paint. Provide a Pantone color with your quote request. We also offer soft-touch painting. |
| Plating | Electroless nickel plating can be used to achieve parts that are similar to cast aluminum or magnesium. |
| Dyeing | Dyeing is another method for adding color to 3D prints. This is a faster option with a limited color selection, making it a more cost-effective choice than painting. |
| Decaling | Decaling can be used to add a logo or other graphics to enhance cosmetics or functionality. |
| Polishing | We can polish parts to a mirror-like finish. If this is a requirement, we ask that you provide either a drawing or image that indicates your finish expectations. |
| Heat Treatment | Harden and strengthen metal 3D prints with multiple heat treatment options: NADCAP heat treatment, hot isostatic pressing (HIP), solution annealing, and aging. |
| Machining | Machine metal 3D prints to achieve exceptional surface finish quality or meet tight tolerances. |
Frequently Asked Questions
3D Printing FAQs​
What is 3D printing used for?

3D printing has historically been used as a rapid prototyping manufacturing method. With advances in post-processing capabilities and engineering-grade additive materials, 3D printing is often used to produce end-use parts.

What are the benefits of 3D printing?

One of the biggest advantages of 3D printing is speed, or time to part. Other benefits include design flexibility, cost savings and production-quality parts without tooling investment.

How big a part can you 3D print?

The maximum size of the part depends on the bounding box of the 3D printing machine used. With advances in large format printing capabilities, parts with build volumes of up to 31.5" x 15.7" x 19.7" for metal parts and up to 29" x 25" x 21" for plastic parts are possible.

What type of file format is required for 3D printing?

Although all file types are ultimately converted to STL (.stl) before printing, the recommended file type to upload is STEP (.stp/.step). SOLIDWORKS (.sldprt) and IGES (.igs/.iges) files.

How do I select a 3D printing technology?

When choosing a 3D printing technology, the first step is to identify critical design requirements such as strength, temperature resistance, water resistance, aesthetics or durability. This will often help you determine whether metal or plastic 3D printing is required for your application. Check out this 3D printing material selection guide for further assistance on technology options to match your design requirements.

What does 3D printing cost?

The cost of 3D printing a part depends on a variety of factors, including design, material, process and post-print operations. Typically, post-printing operations account for the majority of part cost, especially if manual labour is involved. In general, laser powder bed sintering processes such as SLS and MJF are the most economical choice for end-use parts where cost is a key factor.
Put your 3D printed parts into production today