Metal 3D Printing Service
Get quality metal 3D-printed prototypes and production parts. Request an online quote today.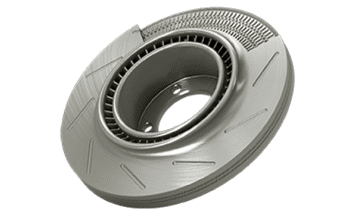 Get metal parts in 7 days - Industrial-grade 3D printing with the DMLS process
Direct Metal Laser Sintering (DMLS) is an industrial-grade metal 3D printing process that enables the construction of fully functional metal prototypes and the production of parts in less than 7 days. A wide range of metals can be used to produce final parts that can be used in end-use applications.
Metal 3D printing technology is commonly used for
Prototyping with production grade materials
Produce complex geometric shapes
Produce functional end parts
Reduce metal parts in assemblies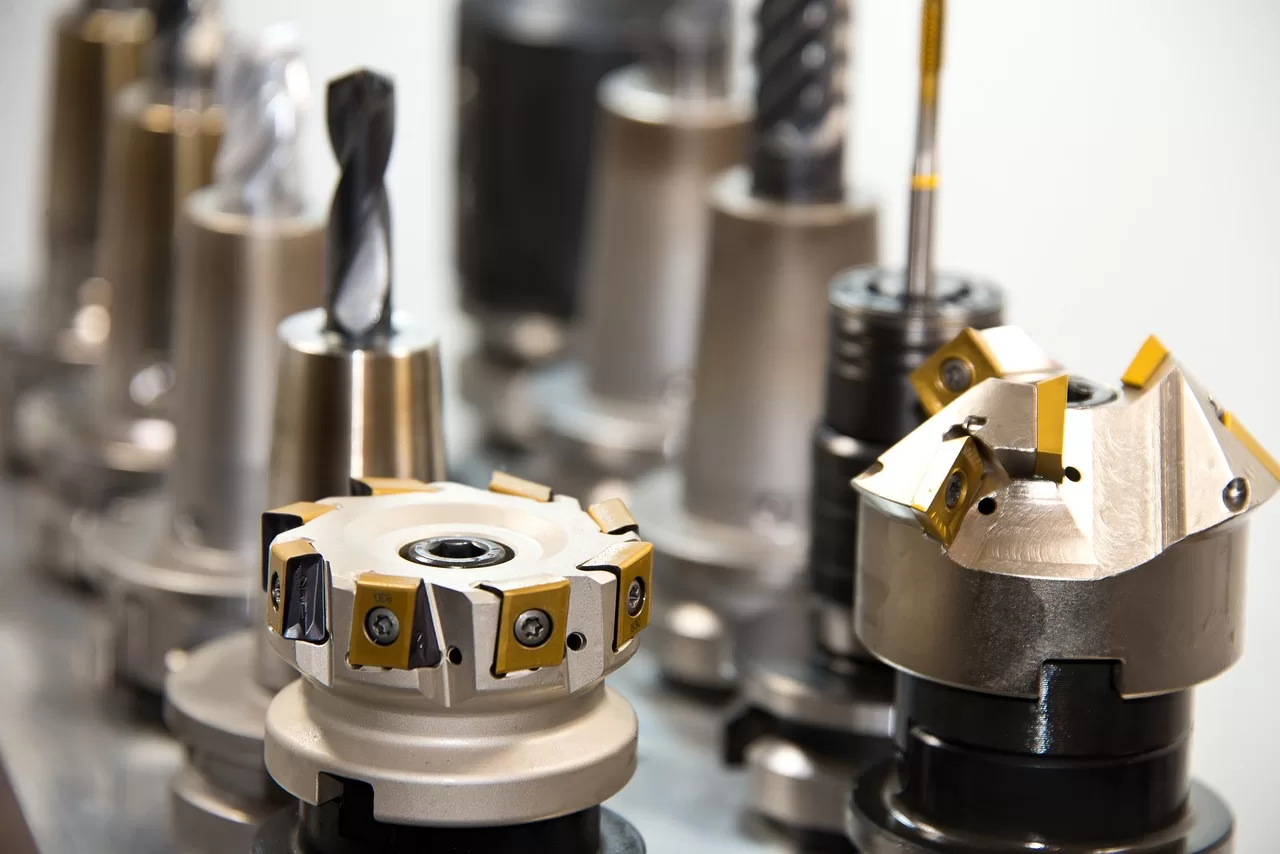 Metal 3D Printing Capabilities
Our basic metal 3D printing guidelines include key design considerations to improve part manufacturability, enhance cosmetic appearance and reduce overall production time.
Max Dimensions
Layer Thickness
Minimum Feature Size
Tolerances
Max Dimensions
V1
Metric
Normal Resolution
9.6 in. x 9.6 in. x 13.0 in.
245mm x 245mm x 330mm
Normal Resolution (X Line*)
31.5 in. x 15.7 in. x 19.7 in.
400mm x 800mm x 500mm
High Resolution
3.5 in. x 3.5 in. x 2.7 in.
**Al and Cu:** 3.8 in. x 3.8 in. x 3.7 in.
88mm x 88mm x 70mm
**Al and Cu:** 98mm x 98mm x 94mm
Layer Thickness
Minimum Feature Size
Tolerances
Metal 3D Printing Material Options
Listed below are our available metal alloys for 3D printing. Different heat treatments are available depending on the material.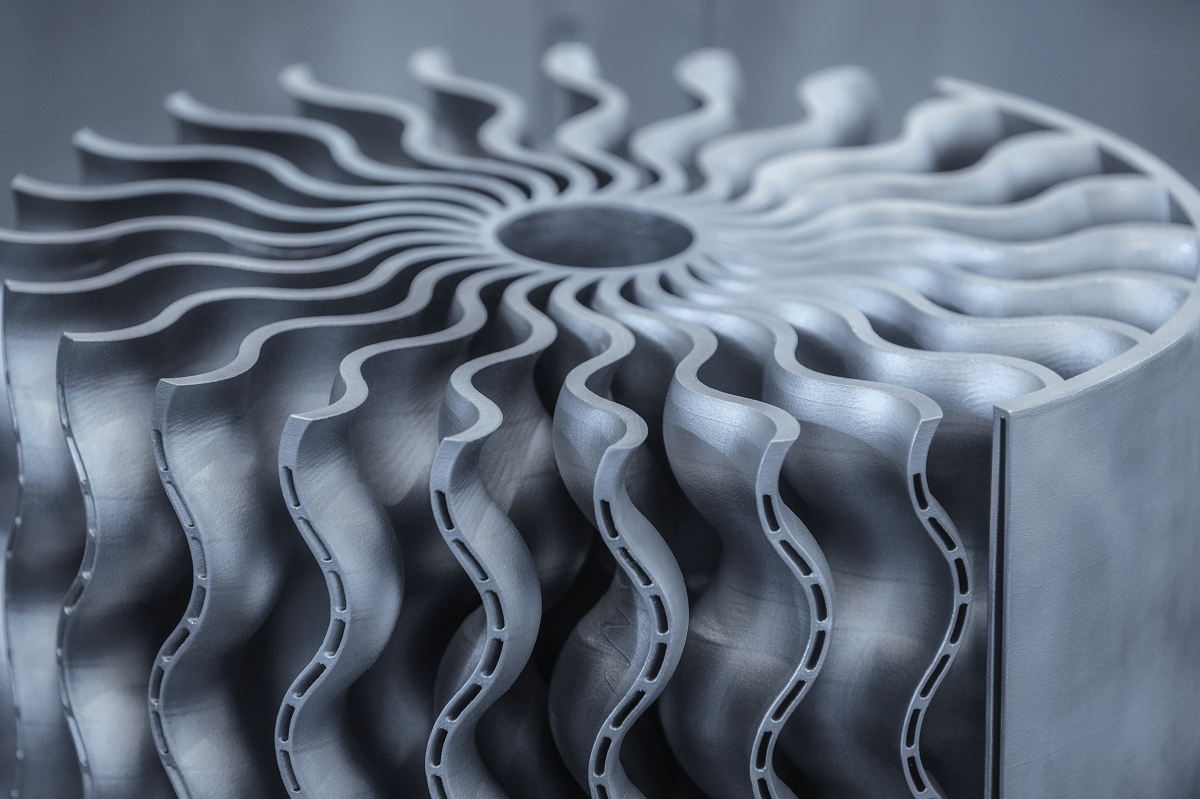 Compare Material Properties
20 μm = high resolution (HR)
30, 40, and 60 μm = normal resolution (NR)
V1
Materials
Resolution
Condition
Ultimate Tensile Strength (ksi)
Yield Stress (ksi)
Elongation (%)
Hardness
Stainless Steel (17-4 PH)
20 μm
Solution & Aged (H900)
199
178
10
42 HRC
30 μm
Solution & Aged (H900)
198
179
13
42 HRC
Stainless Steel (316L)
20 μm
Stress Relieved
82
56
78
90 HRB
30 μm
Stress Relieved
85
55
75
88 HRB
Aluminum (AlSi10Mg)
20 μm
Stress Relieved
39
26
15
42 HRB
30 μm
Stress Relieved
50
33
8
59 HRB
40 μm
Stress Relieved
43
27
10
50 HRB
Cobalt Chrome (Co28Cr6Mo)
20 μm
As Built
182
112
17
39 HRC
30 μm
As Built
176
119
14
38 HRC
Inconel 718
20 μm
Stress Relieved
143
98
36
33 HRC
30 μm
Stress Relieved
144
91
39
30 HRC
30 μm
Solution & Aged per AMS 5663
208
175
18
46 HRC
60 μm
Stress Relieved
139
83
40
27 HRC
60 μm
Solution & Aged per AMS 5663
201
174
19
45 HRC
Titanium (Ti6Al4V)
20 μm
Stress Relieved
153
138
15
35 HRC
30 μm
Stress Relieved
144
124
18
33 HRC
These figures are approximate and dependent on a number of factors, including but not limited to, machine and process parameters. The information provided is therefore not binding and not deemed to be certified. When performance is critical, also consider independent lab testing of additive materials or final parts.
Metric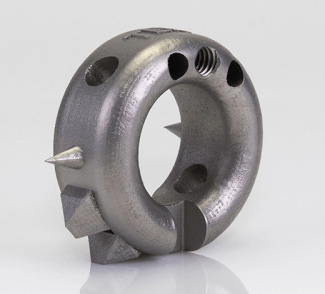 Expect roughness values of 200 to 400 µin Ra (0.005 to 0.010mm Ra), depending on material and resolution. Support structures are removed and layer lines are visible.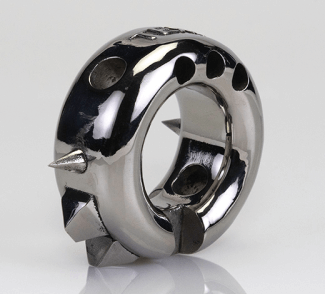 We offer brushed surfaces in a range of grits and polished mirror finishes. Be sure to indicate if the custom surface finish is for functional or aesthetic purposes so we can best consult you on our custom options.
Post-processing options for metal 3D printed parts
Improve the strength, dimensional accuracy and cosmetic appearance of final metal parts with DMLS for Production.
3- and 5-axis milling
Turning
Polish (Mirror or Brushed)
Passivation
Wire EDM
Tapping and reaming
Stress relief
NADCAP heat treatment
Hot isostatic pressing (HIP)
Solution annealing
Aging
Tensile
Rockwell Hardness
Powder Analysis & Material
Traceability
Chemistry
Particle size and distribution analysis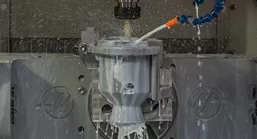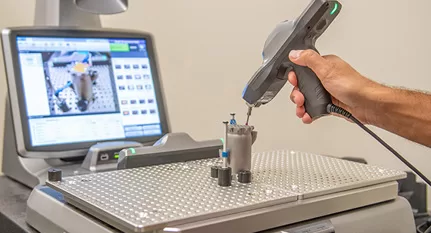 How does metal 3D printing work?
The DMLS machine begins by sintering each layer - first the support structures to the base plate, then the part itself - with a laser aimed at a bed of metallic powder. After a cross-sectional layer of powder is micro-welded, the build platform moves down and a recoater blade moves across the platform to deposit the next layer of powder into an inert build chamber. The process is repeated layer by layer until the build is complete.
When the build is complete, the parts are manually brushed to remove much of the loose powder, followed by the appropriate heat treatment cycle while still mounted in the support systems to relieve any stresses. Parts are removed from the platform and support structures are removed from the parts, then finished with any necessary bead blasting and deburring. Final DMLS parts are close to 100 per cent dense.
Large format metal 3D printing
We have recently added the GE Additive X Line to our fleet of metal 3D printers to produce large parts in Inconel 718 and Aluminium (AlSi10Mg). Do you have a project that might be a good fit? Contact us to discuss your requirements.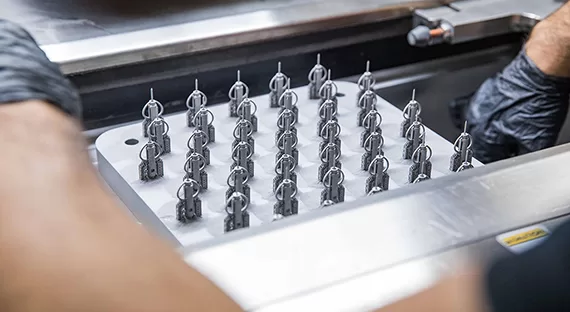 Metal 3D printing for production
Improve the strength, dimensional accuracy and cosmetic quality of end-use metal parts with post-processing options such as CNC machining and heat treatment.
Instant quotes on 3D-printed parts