Our Brushed & Electropolished Services provide effective solutions for achieving superior surface finishes and cleanliness on metal components. Whether you require a brushed appearance or a polished, ultra-smooth finish, our specialized processes can meet your specific needs.
Brushed and electropolished (Ra0.8µm, 32µin).
Electropolishing enhances the shine of parts and improves their resistance to corrosion. It also deburrs the stainless steel surface roughness on a microscopic level (up to 10µm), making them easier to clean.
| Requirement | Specification |
| --- | --- |
| Surface preparation | Brushed |
| Color | Natural metal color |
| Part masking | Indicate masking requirements in technical drawing |
| Cosmetic availability | Cosmetic by default |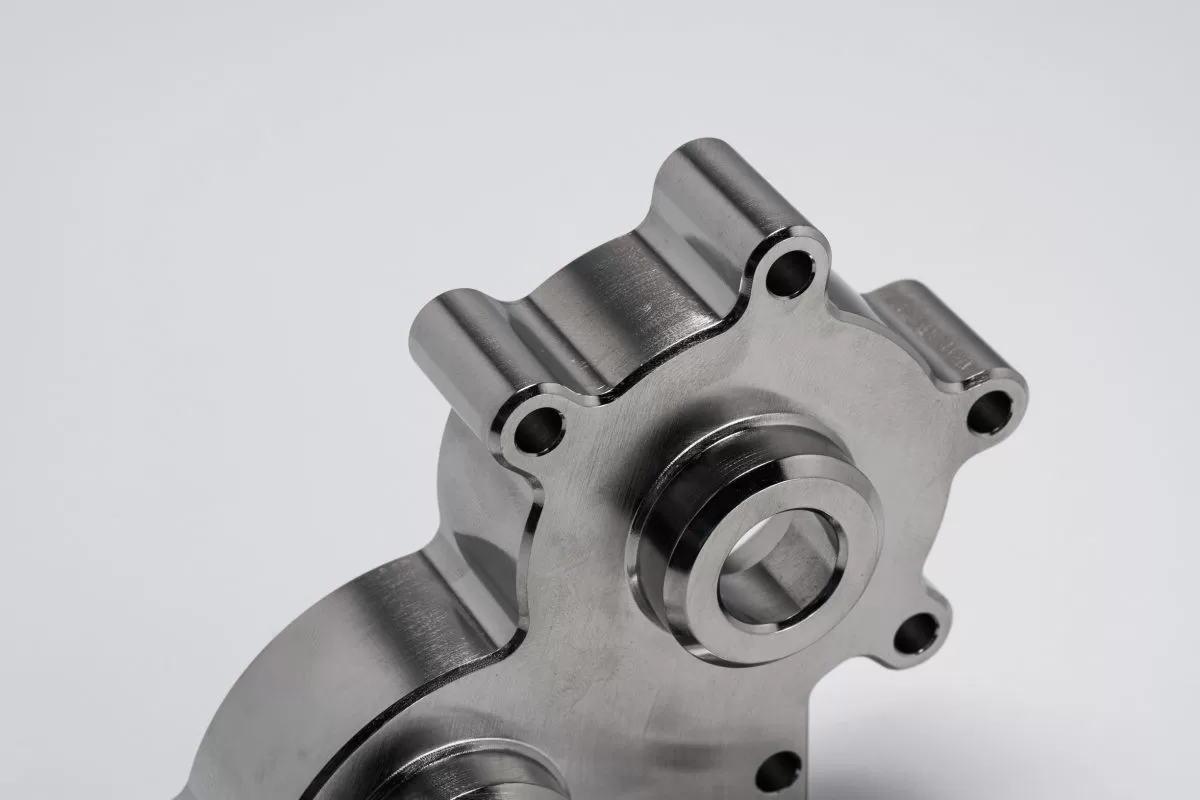 Why Choose Our Brushed & Electropolished Services?
Surface Finish Enhancement: Our brushed and electropolished services are designed to enhance the surface finish of your metal parts. Brushing creates a distinctive brushed texture, while electropolishing removes surface imperfections, such as burrs, scratches, and weld discoloration, resulting in a smooth and uniform surface.
Aesthetic Appeal: Brushed and electropolished finishes offer an aesthetic appeal that is suitable for various applications. The brushed finish provides a unique, textured look, while electropolishing creates a bright, reflective surface, similar to a mirror finish. These finishes can enhance the visual appeal of your components.
Cleanliness and Hygiene: Electropolishing, in particular, provides exceptional cleanliness by removing contaminants and microorganisms from the surface. This makes it a preferred choice for components used in industries with stringent cleanliness requirements, such as pharmaceutical, medical, and food processing.
Corrosion Resistance: Both brushed and electropolished finishes improve the corrosion resistance of metal parts. The removal of surface imperfections during electropolishing eliminates potential corrosion sites, while the brushed finish creates a protective layer that enhances resistance to environmental factors.
Surface Smoothness: Electropolishing achieves an ultra-smooth surface by leveling microscopic peaks and valleys. This smoothness offers benefits such as reduced friction, improved cleanability, and ease of maintenance for your components.
Customization Options: We offer customization options for brushed and electropolished services, including the choice of brush pattern, level of surface reflection, and specific requirements for cleanliness or corrosion resistance. Our experienced team can work closely with you to achieve the desired results.
Various Metal Compatibility: Our services are compatible with a wide range of metals, including stainless steel, aluminum, copper, and alloys. Whether you need brushed or electropolished finishes on different metal substrates, we can provide suitable solutions.
Example of a brushed + electropolished part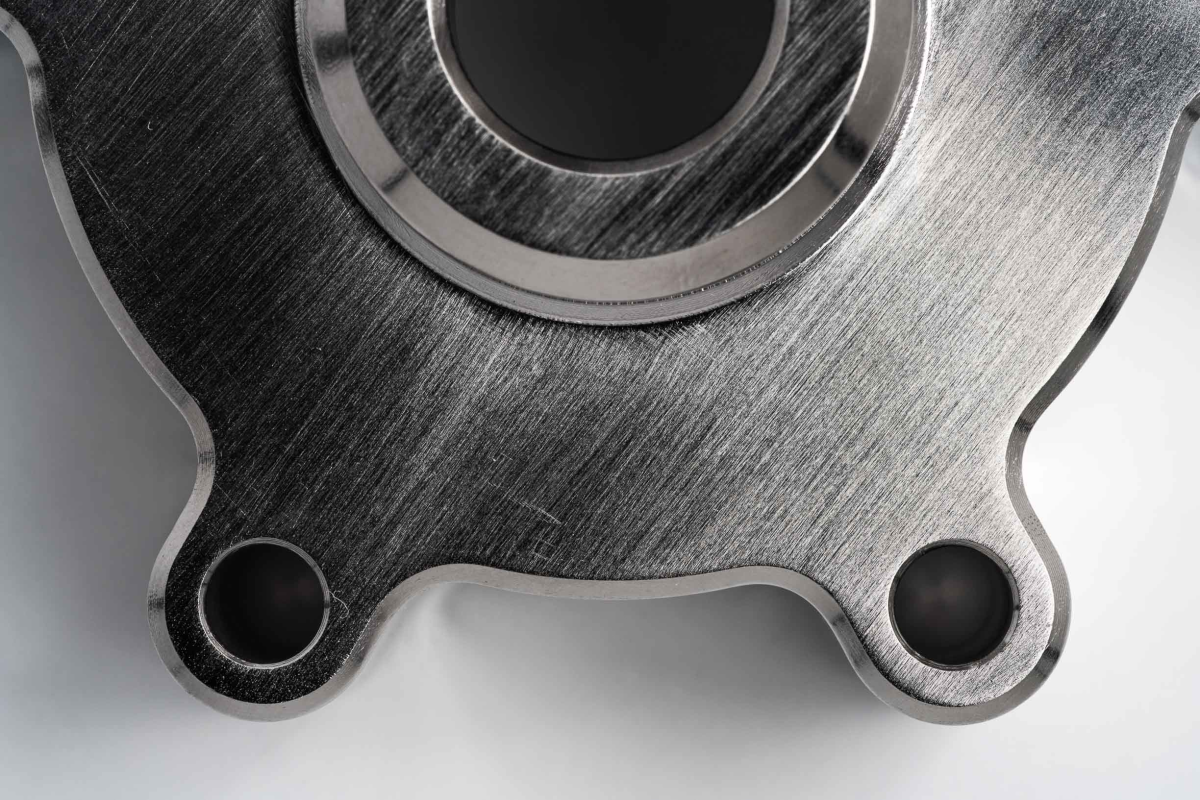 The V1 brushing + electropolishing process
The V1 method to brush
and polish metal parts is carried out through these steps:
Firstly, the part's surface is cleaned and prepared by brushing it with power.
Then, connect the part that will be electropolished (also known as anode) to the positive terminal of a direct current (DC) rectifier. Submerge the anode in an electrolyte solution tank along with a cathode (which is usually made of stainless steel) connected to the negative terminal of the rectifier. Submerge the anode in an electrolyte solution tank along with a cathode (which is usually made of stainless steel) connected to the negative terminal of the rectifier.
An electric current flows through the solution between the anode and cathode, causing ions on the material's surface to rust and break down into the solution.
The parts are then washed off from the electrolyte solution in another container.
To complete the process, the parts go through a final treatment, either by soaking in Nitric acid or Citric acid, rinsed with cold water and then dried.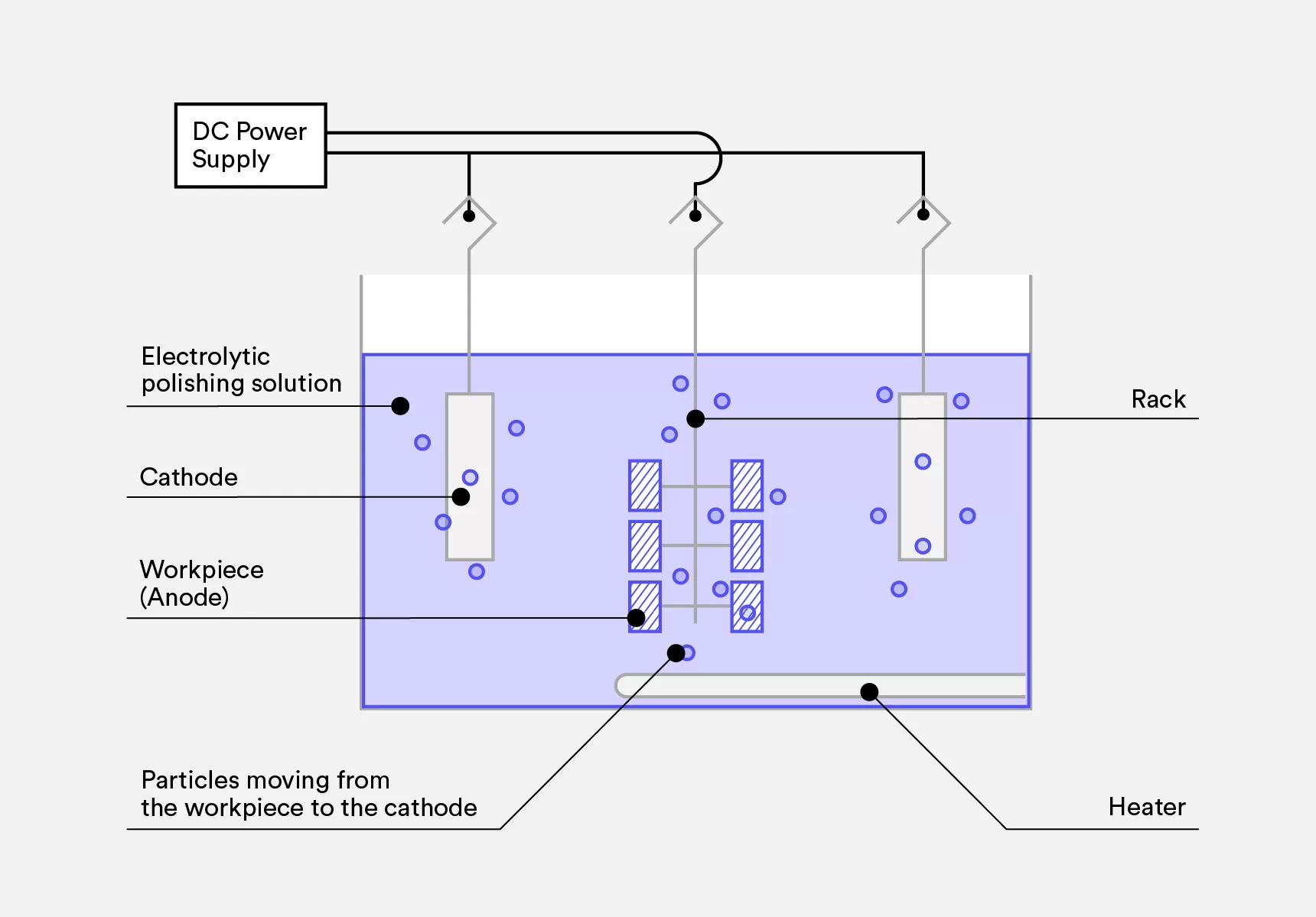 Experience the Benefits of Brushed & Electropolished Finishes
Enhance the surface finish, cleanliness, and corrosion resistance of your metal components with our professional brushed and electropolished services. Contact us today to discuss your project requirements and discover how our specialized processes can elevate the aesthetics, functionality, and longevity of your parts.